For more then 10 years this Beneteau First 45F5 was our:
Home;
workshop;
swimming platform;
safe place;
meeting point;
atelier;
transportation;
restaurant;
photo studio;
sunset spot;
and much much more.
We sailed together from the North of Europe to Mexico. Enjoying our Journey.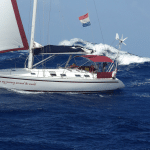 Then suddenly we got an offer what we could not refuse and we decided to go to an elderly house for sailors, a catamaran! 🙂
So, very unexpected our boat was for sale… and now she is continuing her journey with new owners.