Perry Design Review: Beneteau First 45f5
Ferrari meets Farr

For those of you who have never picked up a car magazine, let me tell you that the Pininfarina office is responsible for such classics of car design as the Ferrari Testarossa, 375 GTB Daytona and the incomparable F40. In short, when you conjure up an image of a Ferrari, you are looking at Pininfarina design. Nobody will argue that these are not among the best looking cars in the world.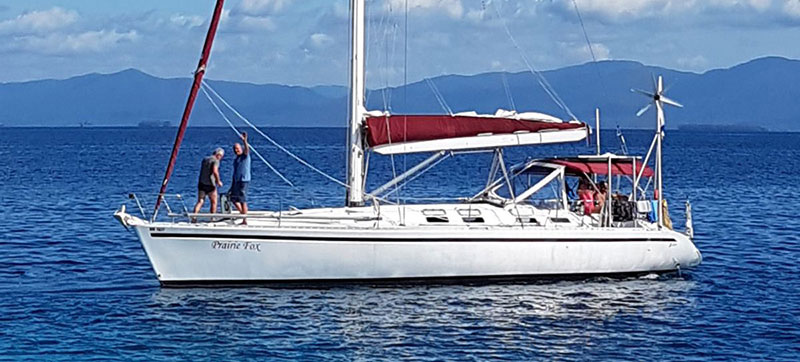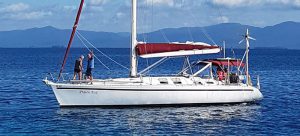 Sailboats are a bit different. A sailboat deck is at once an opportunity for a styling statement and a very demanding work platform. You need to build up a cabintrunk and usually cockpit coamings. I think the C&C 34 shows both excellent styling and well thought-out function. It would be informative and interesting to compare these two decks as we go.

The Pininfarina deck shows exceptionally smooth lines with indicate very low windage. There is an amorphous shape to this deck that doesn't appeal to me despite the carefully sculpted accent lines. I would still like to see more definition. The entire profile of the deck flows in an almost unbroken clean line from the short foredeck down to the tip of the transom. The transom has no swim step.

Compare this with the complex interacting facets and contours of the C&C deck. They both look good but represent almost opposite approaches to deck design. But we must see this boat before we pass judgment. But with a reported 80 of these boats sold at the Paris boat show, it is obvious a lot of people think it looks good.

Farr's hull for the Beneteau First 45f5 is great. The bow shows minimal overhang with a fine entry quickly fairing into U-shaped sections then rounding towards amidships and slightly flattening out towards the stern. BWL is moderate and in fact the whole hull design is quite moderate. The sheer spring is subtle and without much character, but I think the deck treatment requires this type of sheer. The D/L ratio is 200 based upon an approximate displacement of 22,200 pounds. This is a pretty ambitious displacement considering the accommodation plan. The plan view shows a hull with lots of beam aft, which helps when you have to write a name like Pininfarina across the top of the transom. The keel is a high aspect ratio fin with both leading and trailing edges curved. Polar plots indicate strong reaching performance. The hull profile shows a marked reverse in the counter aft with the rudder stock right at the aft end of the DWL.

True to Farr's origins, the rig is a fractional sloop with a short 15-foot J dimension. The SA/D ratio is 18.59, which is enough for swift cruising. The spreaders are swept aft and no runners or checkstays are drawn. This is a rig with handsome proportions. Note the mid-boom sheeting on the main. It may be convenient, but it sure is not efficient and I am sure it was a marketing decision as opposed to a design decision.

There are three layouts available: a two owners cabin layout, a three owners layout and a four cabin layout. Each layout features double berths with the two and three owner layouts having a single berth adjacent to the forward double. All three layouts share a common oval dinette with centerline island seating.

What I like about this new Beneteau is that it is different. You throw the deck design to a group that is not used to designing yachts and it is inevitable that you will get some fresh thinking and a revaluation of yacht aesthetics. I can't wait to see one in the water.



This story originally appeared in Sailing Magazine, and is republished here. Subscribe to Sailing.