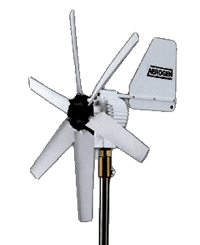 You don't have to live as a Spartan anymore when you live on a boat.
Things are easier… as when I started to sail.

On this boat we have three different power sources, when we are sailing:

– Solar panels (Solarworld 500 Watt) with Morningstar Tristar 45A MPPT controller
– Wind generator (Aerogen 6)
– High output Alternator with Smart controller (Mitsubishi 110A + Sterling ProReg -D)

They all producing 12 Volt DC and that kind of power we can store in batteries, so that we can use it, also when there is no sun or wind.
For electricity storage we are using 3 x firefly Oasis G31 (348 Ah) A battery that you can discharge till 80% and almost impossible to destroy with deep discharging.
Manuals and Documentation
Aerogen 6 manual
ProReg-d Documentation
ProREG installation instruction
Solarworld solarpanel 255W documentation
Manual Tristar MPPT controller